To read in English, click here
A MENTOR Initiative em a colaboração com o Programa Nacional de Controlo das DTNs de Angola, com o Instituto Kirby da Universidade de New South Wales Sydney, com Projeto Especial Alargado para Eliminação de Doenças Tropicais Negligenciadas (ESPEN) e apoio do The End Fund está a desenvolver um estudo para melhor compreender o impacto do programa de 5 anos de quimioterapia preventiva e ASHE que tinha como objetivo reduzir a incidência e prevalência de duas Doenças Tropicais Negligenciadas (DTNs), Schistosomíase (SCH) e Helmintíases Transmitidas pelo Solo (HTS) em 3 províncias de alto risco de Angola. Ao mapear a prevalência e intensidade de ambas as infeções, este estudo tem como objetivo quantificar o progresso alcançado para SCH e HTS nas províncias alvo. O mapeamento está a decorrer entre crianças entre os 6 e os 11 anos de idade no Huambo, Uíge e Zaire.
---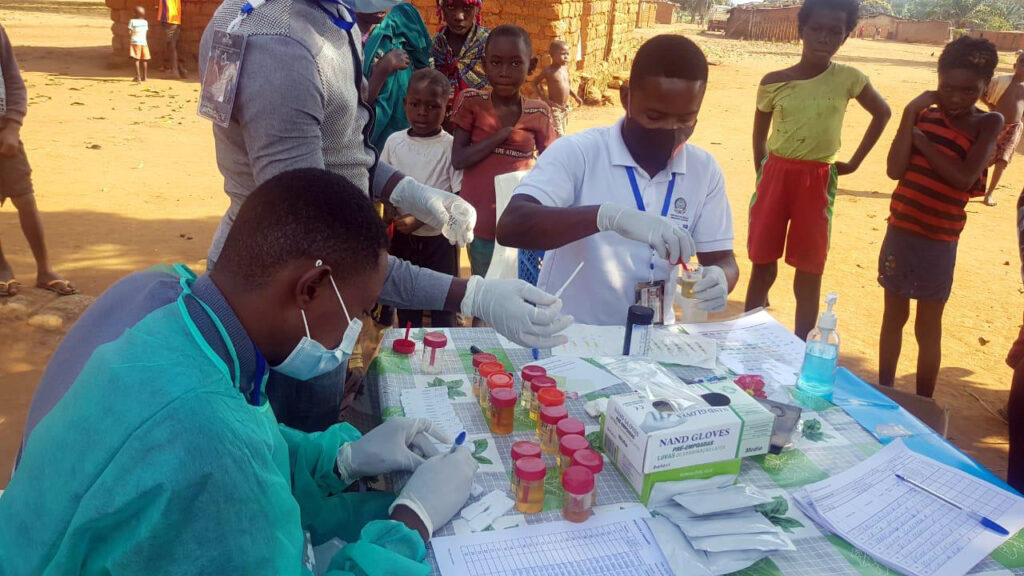 ---
Até ao momento, as equipas já entrevistaram 11,580 crianças em idade escolar (CIE) num total de 384 escolas em Uíge e Zaire. A equipa está agora a iniciar os seus trabalhos na província do Huambo, onde 6,600 CIE e 220 escolas serão convidadas a participar na avaliação.
---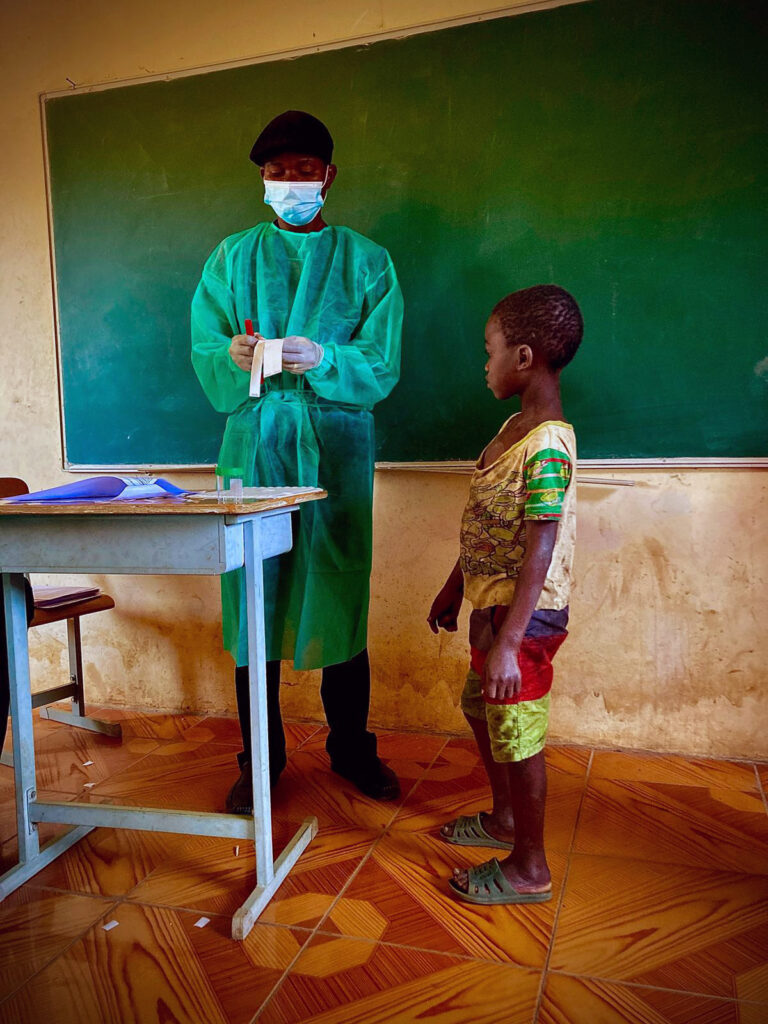 2. Registo de uma criança em idade escolar a participar no estudo através de um número de identificação único
---
Para o diagnóstico tanto para SCH e STH serão utilizadas técnicas de referência padrão da OMS para determinar a presença ou ausência de infeção. A prevalência de SCH está a ser determinada por Testes de Diagnóstico Rápido (TDR): antigénio catódico circulante (CCA) e fita reagente Hemastix.
---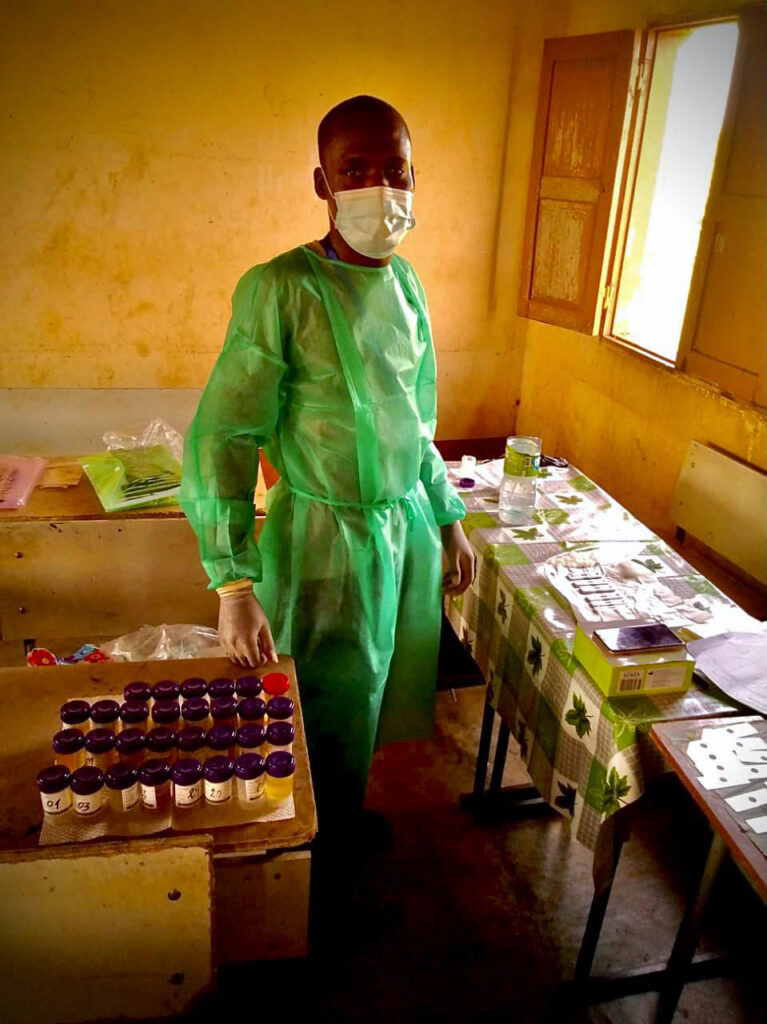 3. Membro da equipa preparando amostras de urina para análise de TDR
---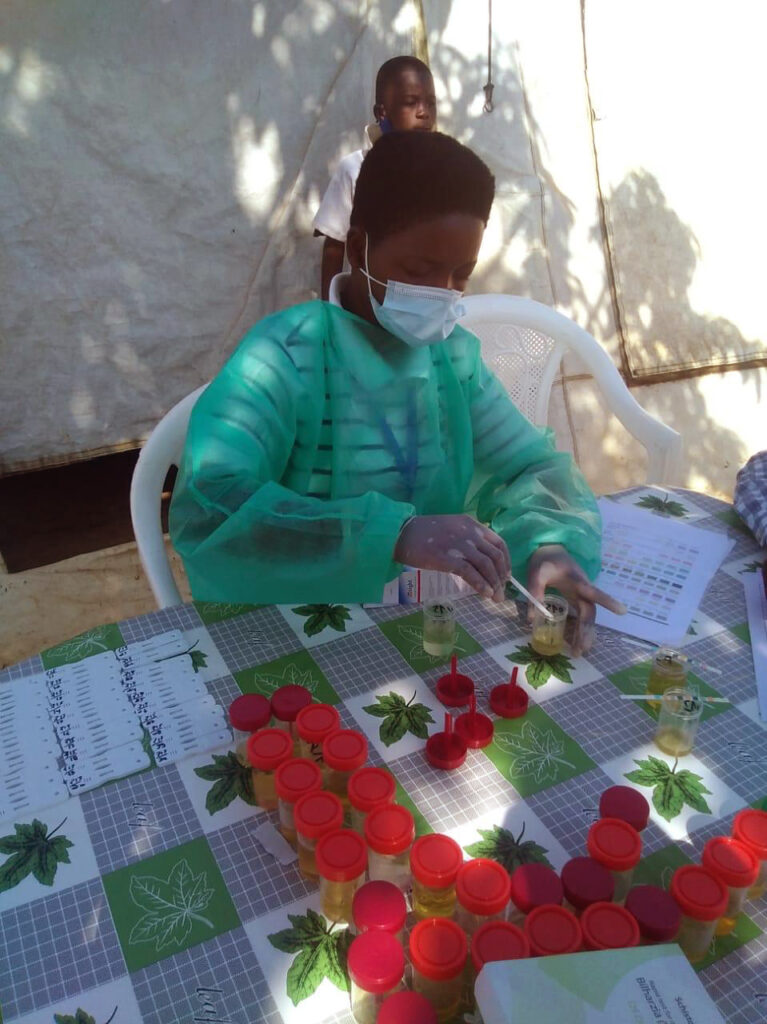 4. Membro da equipa realizando a técnica de TDR
---
As escolas participarão também numa avaliação de microscopia através da técnica da Filtração de Urina de forma a determinar a prevalência e infeção de Schistosíase e a deteção e quantificação de S. mansoni e S. hematobium.
---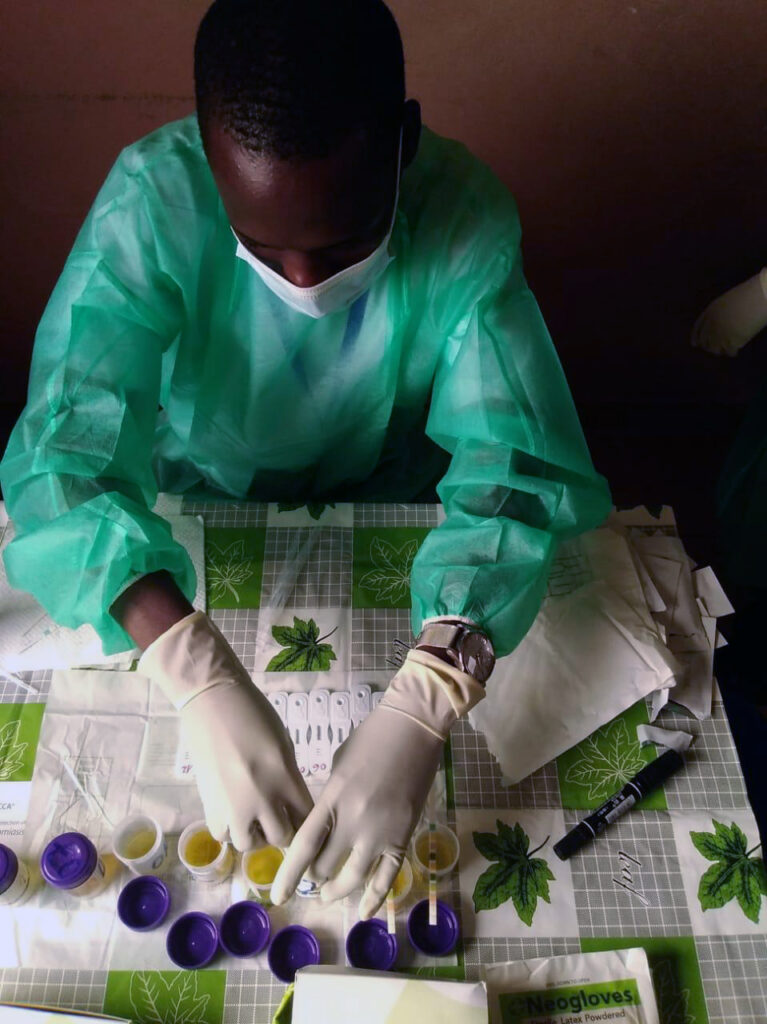 5. Membro da equipa preparando a técnica de Filtração de Urina
---
A prevalência e a intensidade de infeção das espécies de HTS serão determinadas através de microscopia utilizando a técnica de Kato Katz. Um subconjunto de amostras de fezes será analisado usando a reação de polimerização em cadeia quantitativa (qPCR): um método cada vez mais reconhecido para detetar e quantificar a infeção de HTS que pode distinguir entre espécies de vermos (Necator americanus, Anyclostoma duodenale, A. ceylanicum).
---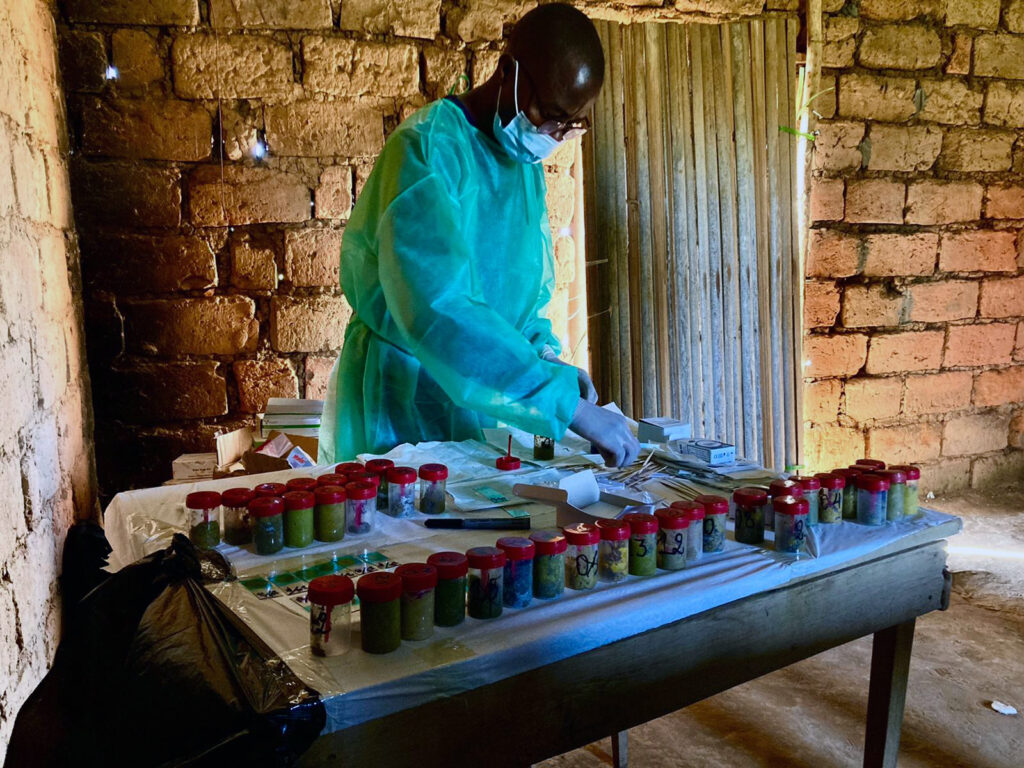 6. Membro da equipa preparando amostras de fezes para a técnica de Kato Katz
---
Os representantes regionais e nacionais da Organização Mundial de Saúde (OMS) também participaram no estudo, nomeadamente a OMS ESPEN que esteve envolvida em apoiar os processos de recolha de dados. A utilização de uma plataforma digital de recolha de dados revelou-se essencial para garantir a qualidade dos dados recolhidos e o progresso geral do estudo, bem como fornecer informações preliminares sobre os resultados.
---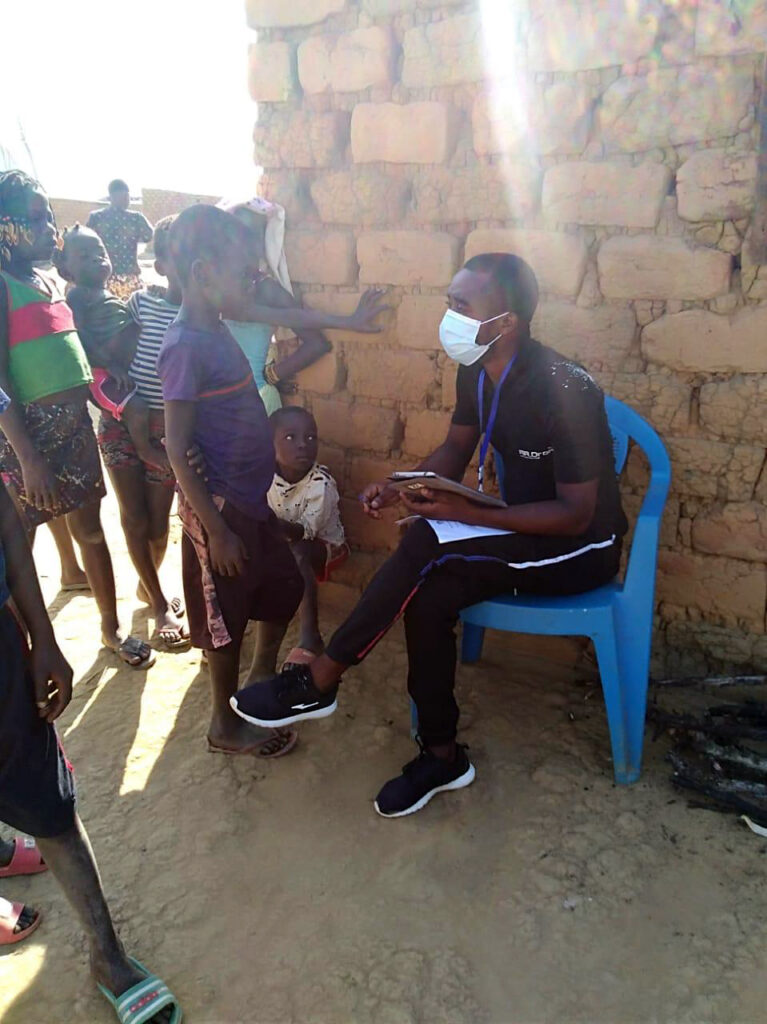 7. Inquiridor entrevistando uma criança
---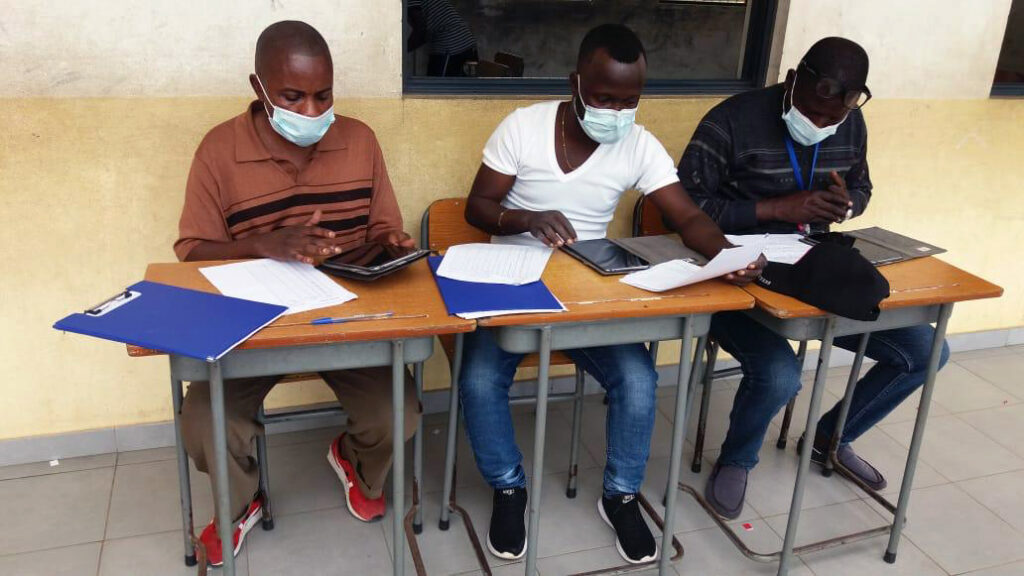 8. Gestores de dados inserindo dados na aplicação ESPEN Collect
---
A Dra. Elsa Mendes, do Programa Nacional de Controlo das DTNs de Angola, liderou as equipas do mapeamento SCH e HTS que inquiriu 8,160 crianças no Uíge e 3,420 no Zaire. Segundo a Dra. Elsa:
"A equipa tem estado muito motivada e empenhada ao longo de todo o percurso e terminamos com a certeza do dever cumprido, pois, uma nova etapa começará para estas três províncias. Acreditamos que os resultados constituirão a base para reflexão de que medidas e estratégias seguir para o controlo da Schistosomíase e Helmintíases Transmitidas pelo Solo nas províncias do Uíge, Zaire e Huambo".
---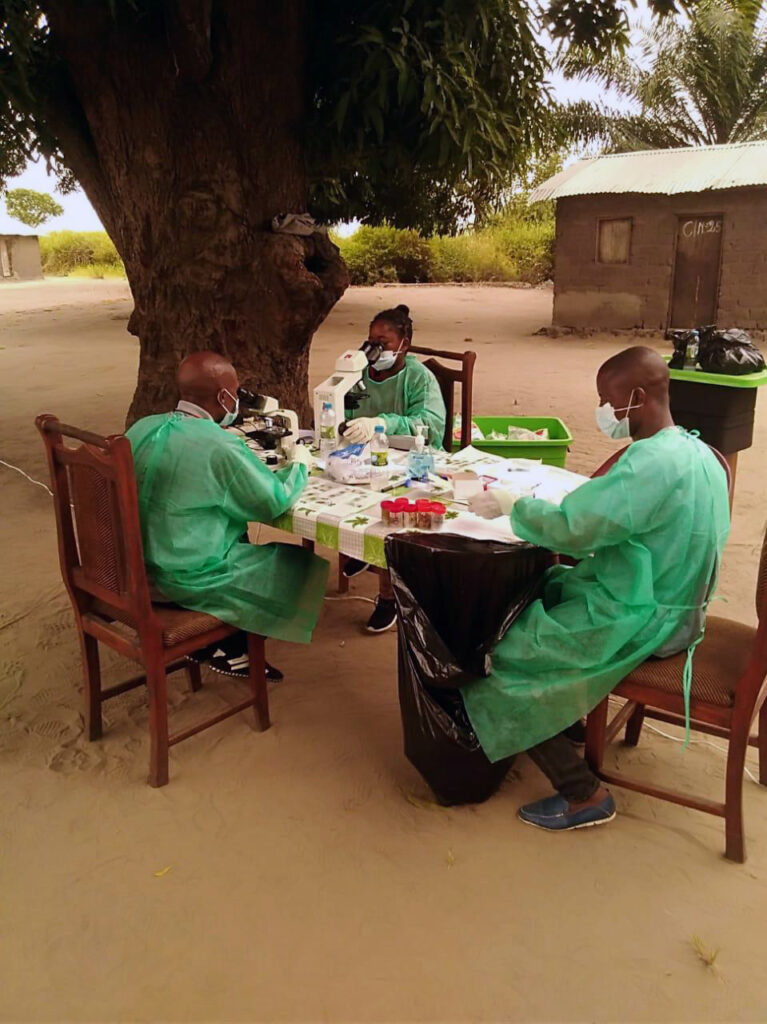 ---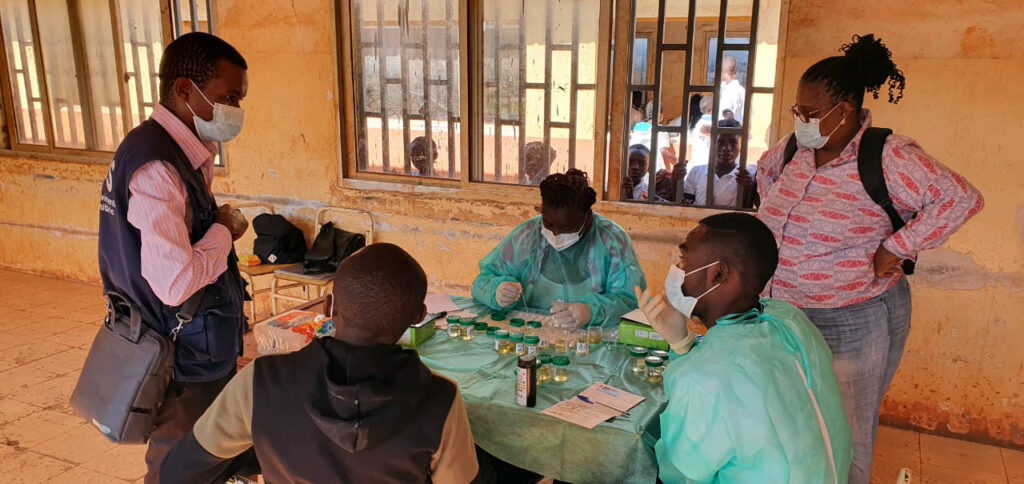 ---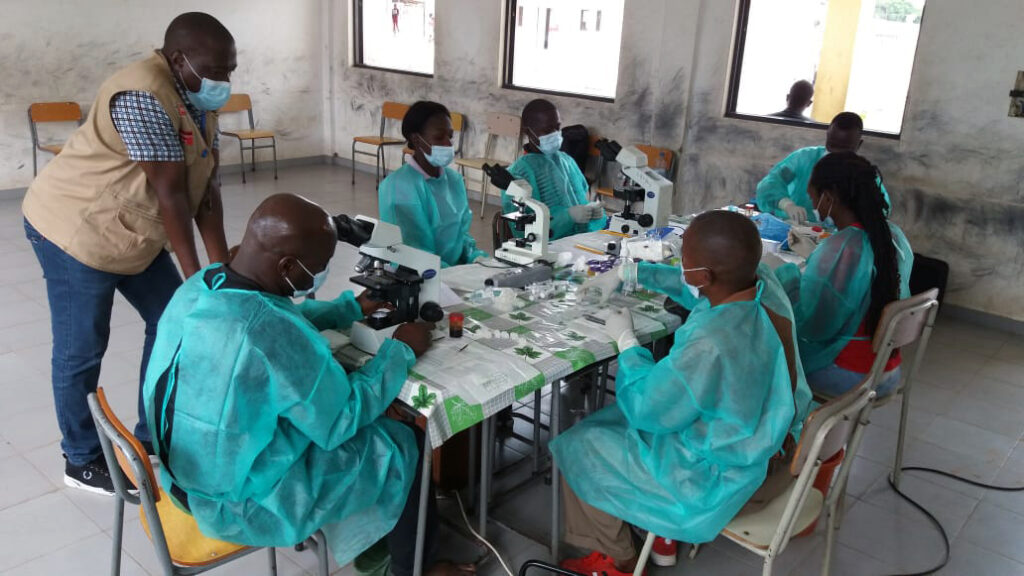 11. Team members working in Zaire (município do Soyo)
---
O mapeamento destas doenças é essencial para melhor compreender como e onde persiste a infeção e potenciais fatores de risco associados a isso e também, determinar a localização e periodicidade da AMM. Desde o mapeamento de 2015 que a MENTOR tem vindo a apoiar o Ministério de Saúde de Angola para implementar atividades de AMM. De acordo com as recomendações da OMS, após 5 anos de AMM, é essencial avaliar o impacto das intervenções e aperfeiçoar a implementação da estratégia do AMM com base na informação de avaliação de impacto. O presente estudo é essencial não só para avaliar os progressos alcançados até agora, mas também para redefinir estratégias de controlo das DTNs em Angola para que o controlo das DTNs mais comuns seja acelerado nos próximos anos, proporcionando um contributo significativo para a realização objetiva do Roteiro NTD da OMS 2020-2030.
---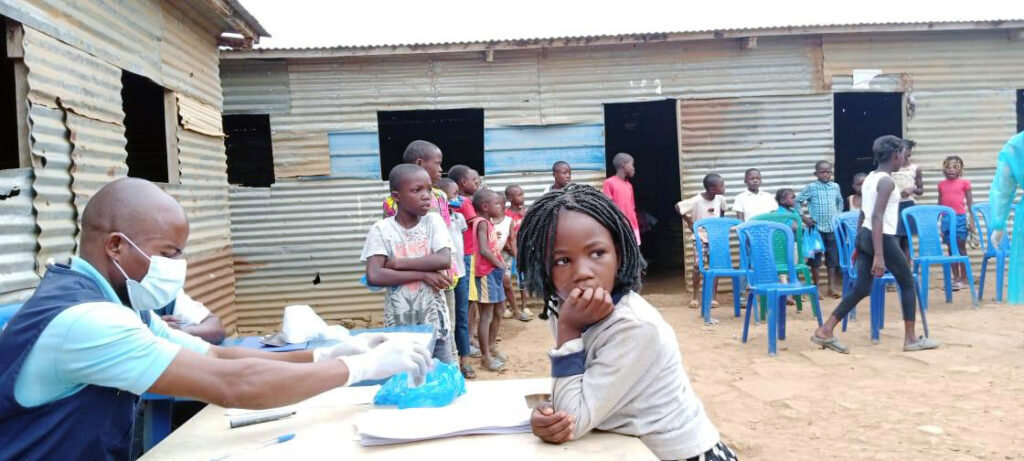 12. Membro da equipa que regista criança para participar no inquérito
---
To read in English, click here
---
Veja a galeria inteira aqui: