Kenya
Both man-made and natural disasters have consistently and unduly plagued North Eastern Kenya. Throughout the last 20 years with conflict, floods, nutritional crises and disease outbreaks commonplace, the population has been left marginalised and highly vulnerable.
MENTOR worked with populations in Wajir, Garissa, Mandera and surrounding areas which are home to large pastoral agricultural communities whose livelihoods are often destroyed due to erratic rains and droughts. The flat and semi-arid areas in this region are prone to large-scale flooding, which provide perfect conditions for mosquito breeding, often leading to devastating epidemics of malaria and other vector-borne diseases (VBD) among the non-immune population.
North Eastern Kenya, including Wajir, Garissa, Mandera, consistently suffered a high frequency of attacks from Al Shabaab and other militants, with shootings and grenade attacks on Christians, police and security services now a regular occurrence. Insecurity and precarious living conditions combine to make North Eastern Kenya a challenging place to implement reliable routine health services. Malaria, dengue fever and other VBDs remain endemic and present a constant threat.
MENTOR's response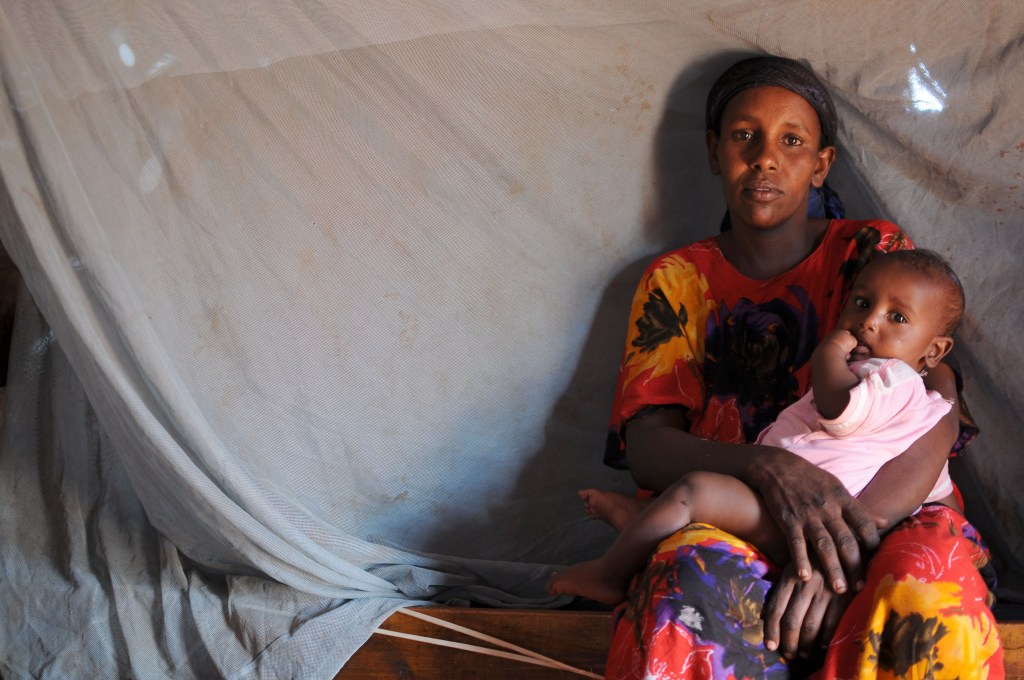 With support from the UK Foreign, Commonwealth, & Development Office (FCDO), MENTOR worked in collaboration with county Departments of Health in Wajir, Garissa and Mandera to ensure vulnerable communities at risk of malaria and VBD outbreaks had access to timely and lifesaving interventions.
Wajir and Garissa August- November 2016
A trained workforce of health staff is crucial in reducing deaths and suffering from VBDs, but in rural areas such as Wajir and Garissa, there is often a lack of adequate capacity. MENTOR supported 70 health facilities in Wajir and 38 health facilities in Garissa, improving patient care, diagnosis and treatment of VBDs. Health workers in MENTOR-supported facilities were trained on how to test febrile cases correctly and manage confirmed cases of malaria, dengue fever or Chikungunya.
Community health workers (CHWs) also play a vital role in the fight against tropical diseases and can connect people in North Eastern Kenya to health services. Training was adapted for CHWs so they could provide consistent information on malaria and febrile illnesses and effectively diagnose and treat simple malaria cases.
From August to November 2016:
A total of 113 health staff have received technical coaching and support.
A total of 62 health workers have received on-the-job training and technical support on the management of malaria and differential diagnosis on febrile diseases.
A total of 64 CHWs have been trained on case management of malaria, dengue fever and Chikungunya in Wajir and Garissa Counties.
These training sessions improve health manager's entomological understanding of disease vectors, their behaviour, the diseases they transmit and how to control them. This level of training ensures better planning of prevention activities and supports the development of information, education and communication (IEC) materials and gatherings.
MENTOR's IRS campaigns targeted high risk locations in Wajir and Garissa, aiming to protect 400, 000 people from malaria and leishmaniasis.
The participation of the community was essential for a successful vector control campaign and training took several days to ensure high quality work. MENTOR's IRS campaigns are all supported by IEC campaigns and education materials about malaria, IRS and Long Lasting Insecticidal Nets (LLIN) use and Aedes-borne disease prevention and control. Door-to-door malaria related IEC messages reached a total of 23, 998 people in Wajir and 5, 476 in Garissa, delivered by community educators.
In Wajir:
a total of 441 campaign workers have been trained
15,632 houses have been sprayed
97, 221 people protected from leishmaniasis and malaria
In Garissa:
IRS has been completed in a total of 6 flood prone locations
2, 738 houses have been sprayed
17, 225 people protected from malaria
95 campaign workers trained
Mandera County August – November 2016
In May 2016, Mandera was severely affected by its first recorded outbreak of Chikungunya, which shares some medical symptoms with dengue fever. Chikungunya is therefore often misdiagnosed in areas where dengue fever is prevalent. Dengue fever and Chikungunya are transmitted by Aedes mosquitoes, the same vector for Yellow Fever and Zika. Transmission may occur at any time of the year as unlike malaria mosquitoes, these breed in man-made water storage containers and domestic waste containers. Aedes mosquitoes are therefore independent of seasonal rainfall and epidemics can occur in the dry seasons, as well as during the rains. The control of Aedes-borne disease is focused on removing or treating domestic water as well as waste container breeding sites.
MENTOR worked in close collaboration with the Mandera Ministry of Health County Team, implementing emergency Aedes-borne disease control programmes for vulnerable communities in Mandera town and the immediate surrounds. The Mandera community worked with MENTOR on the ongoing efforts to prevent Chikungunya and dengue fever. This included the identification and elimination of Aedes mosquito breeding sites, personal protection and mobilising household owners to participate in clearing rubbish around their communities. These campaigns were organised in conjunction with the Public Health Office, community leaders, the National Environmental Management Agency (NEMA) and the Mandera town administration.
A total of 60 health workers have been trained in Mandera on how to accurately diagnose and appropriately manage Chikungunya and dengue fever.
On the job coaching sessions have reached a total 31 health workers in 10 health facilities in Mandera.
A total of 31 senior health management staff have been trained on entomological surveillance and monitoring.
A total of 81, 175 people have been reached through door-to-door IEC campaigns of Aedes borne diseases.
The Way Forward
MENTOR will continue to reduce the disease burden of vulnerable populations in Wajir, Garissa, Mandera and the immediate surrounding areas. Training and supervision visits will continue in the MENTOR- supported health facilities, alongside capacity building of health workers on malaria epidemic preparedness and response. IRS campaigns in the remaining flood prone locations will be implemented to keep malaria caseloads below epidemic levels. Dengue fever surveillance in health facilities will be reinforced in case of dengue fever outbreak in Wajir and Garissa. Surveillance for dengue and Chikungunya fever will be reinforced in Mandera and the development of Aedes breeding sites will be monitored.