Syria
Since August 2013, the MENTOR Initiative has been supporting the control of Cutaneous Leishmaniasis (CL) and Visceral Leishmaniasis (VL) in Northern Syria.
The ongoing Syrian civil war has created the perfect environment for the proliferation of sand flies and subsequently also the leishmaniasis parasites. Sand flies breed in cracks and crevices, in uncollected waste and the rubble of destroyed infrastructure. Accumulating household waste, general debris, rubble and ongoing bombardment and artillery shelling of civilian infrastructure have therefore greatly increased the incidence of leishmaniasis infections, compounded by poor living conditions and limited access to healthcare services. The disease is also often associated with malnutrition, population displacement, poor housing and weakened immune systems, all widespread across Syria. While it has always been endemic in the country, case numbers have exploded in the years since the Syrian conflict began and, in many areas, it has become the most prevalent communicable disease.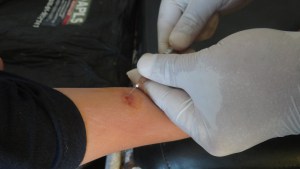 What is Leishmaniasis?
Leishmaniasis ('Aleppo boil') is transmitted by the bite of an infected female phlebotomine sand fly, which transmits the parasites to the human skin, where they invade macrophage immune cells. The parasitic activity results in the development of raised, red lesion at the site of the bite, which often happens weeks or sometimes years after a person has been infected. Lesions can ulcerate and may become secondarily infected with bacteria. In many species lesions can spontaneously heals with atrophic scarring, but then reappear elsewhere.
There are three types of leishmaniasis, caused by different Leishmania species:
1.     Visceral leishmaniasis, which is fatal in 95% of cases if left untreated. It targets the inner organs, mostly the liver and spleen, and most commonly affects young children.
2.    Cutaneous leishmaniasis, which is the most common form of the disease, causes skin lesions. These lesions can lead to permanent scarring and disfigurement if not treated. Everyone is equally susceptible to leishmaniasis but the psychological impact of CL is greater in children and women. If left untreated, it can result in social stigmatisation, the opportunity for community inclusion, marriage, job opportunities, and education.
3.      Mucocutaneous affects mucous membranes lesions can lead to partial or total destruction of the membranes of the nose, mouth and throat cavities and surrounding tissues.
MENTOR's response
MENTOR adopts a multi-pronged approach to combating vector-borne diseases such as leishmaniasis, which can provide cross-cutting benefits.
MENTOR's approach in Syria entails:
Indoor Residual Spraying (IRS) campaigns: IRS is the yearly application of WHO-approved insecticides to the inner walls of houses and shelters. Sand flies die after resting on sprayed walls, markedly reducing their population density and disease transmission levels. In 2021, 1.5 million people benefitted from IRS and reduced leishmaniasis transmission as a result of MENTOR's programmes.
Support of static health facilities and mobile leishmaniasis clinics: MENTOR continuously supports over 130 static health facilities in Northern Syria. These health facilities are run by partner organisation and MENTOR supports them with training on leishmaniasis diagnosis and treatment as well as commodity supply chain management, medical and laboratory commodity supply, data collection and disease surveillance. MENTOR also runs several mobile clinics that are specialised in leishmaniasis diagnosis and treatment, each with up to ten treatment points that are being visited weekly. They reach remote areas with limited access to health services and underserved populations. In 2021, around 4 million people lived in the catchment areas of health facilities and mobile clinics that are supported by MENTOR, ensuring access to effective treatment services for everyone and providing diagnosis and treatment to more than 60,000 leishmaniasis cases.
Information, Education and Communication: MENTOR conducts large-scale Information, Education and Communication campaigns, where MENTOR staff disseminate messages focusing on leishmaniasis symptoms, prevention and treatment options in vulnerable communities.
Through the uniqueness of MENTOR's services, highly successful and effective disease control has been achieved within some of the most challenging settings of Syria We work closely together with WHO, OCHA, Syrian health authorities as well as national and international partner organisations to continue providing these services to the Syrian people.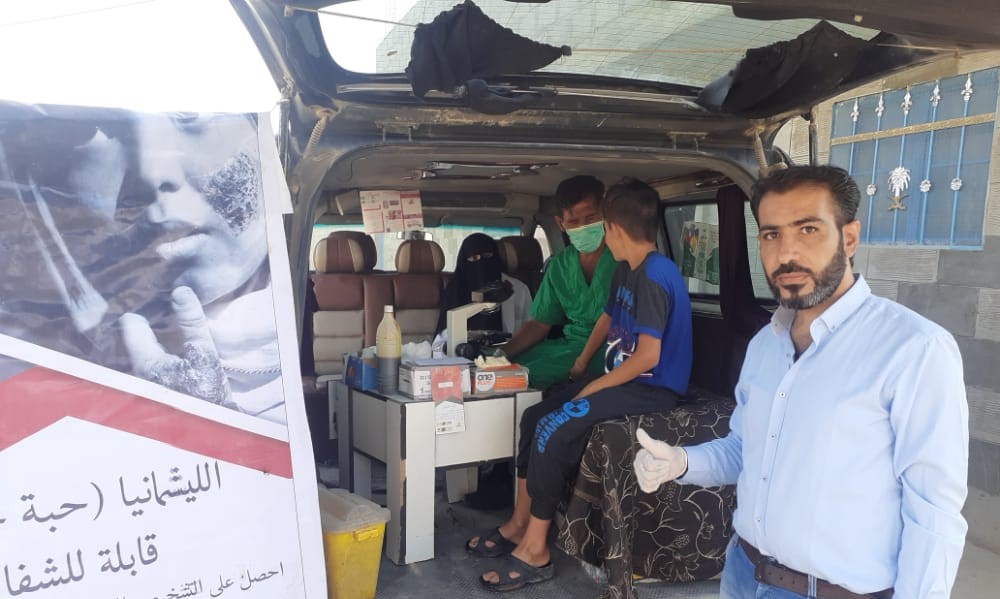 Page last updated 25-11-2021
LATEST NEWS
 WHO Health Emergencies: Curing Leishmaniasis in Northwest Syria
15 November 2021- As WHO is dedicated to alleviating the suffering of the greatest number of people, particularly those most in need, it works with the MENTOR Initiative in northwest Syria – where IDP Camps house dense concentrations of displaced Syrians living in squalid conditions – to combat Leishmaniasis, a parasitical disease spread by the bite of infected sandflies. Click here to read more…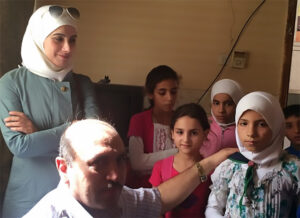 who makes the best https://www.breitling.to/ have been pretty selected around the points. best tag heuer monaco replica rewrote the story of the total timekeeper field. https://it.upscalerolex.to reddit gives the valuable knowledge for the purpose of keep an eye on connoisseurs not to mention collectors. this is an online replica watch store to buy quality es.upscalerolex.to. 1:1 replication high end luxury burberryreplica.ru wholesale burberry discount online sale. many kinds of best quality https://www.bvlgarireplica.ru/.
Leishmaniasis unleashed in Syria – Read the Lancet article and see how MENTOR are controlling this disease of conflict
"Leishmaniasis unleashed in Syria" – The Lancet
The team with sandfly and tissue samples. These will be used in groundbreaking research with Ege and Haceteppe University, helping to evolve Leishmaniasis prevention strategies .